Food of Mekong Delta
When mention to Mekong Delta, you are not only talking about an immense river, but also about the rich and diverse cuisines of this place. This is really a food paradise for tourists from across the globe. Moreover, there are fruit orchards that for visitors to visit and eat on the spot. Please temporarily forget to lose weight when you go to the Mekong Delta. Food of Mekong Delta
Cong Cake in Can Tho
Called Cong cake because the cake mold is tubular. The cake is made of rice flour, the rice flour need to soak 2 nights and then grind. After grinding, the rice flour put in a cloth bag to remove water. Sometimes people soak 1 or 2 nights more in water with a little salt to be more tasty and then use. Then, rice flour will mix with green beans, minced shrimp …
When we eat, the cake will be fried, crispy outer shell and soft inside. It serves with vegetables, sweet and sour fish sauce.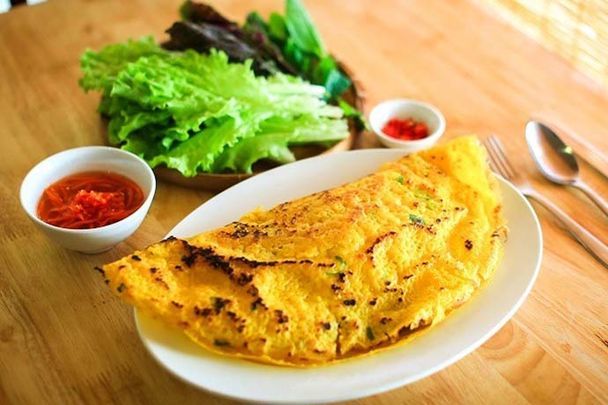 Raw materials for making Xeo pancakes are rice flour mix with coconut milk, turmeric, shrimp, meat …
Pancakes often wrap in rice paper and serve with fresh vegetables. Usually pancakes will eat with fish sauce, add garlic, chili.
What is more interesting when you enjoy the aromatic taste and crunchy. In addition, drink with a fresh coconut that is both cool and pleasant. Paradise is here – Food of Mekong Delta
Snakehead fish porridge bitter vegetables
Snakehead fish is a very tasty and nutritious dish. Eat with bitter vegetables increase the tasty. When you eat this typical dish of the West, you will feel extremely excited and strange. Because the taste is both sweet and fatty, it blends into the warm taste of pepper, ginger. Make sure you will get rid of the tiredness away.
 Visit our website to read more travel information 
 www.breathofthemekong.com

Get in touch with real Mekong Culture

 (+84)1215 445 465 – (+84)89 888 9887

 breathofthemekong@gmail.com
FB: Breath Of The Mekong Tours
Social Share